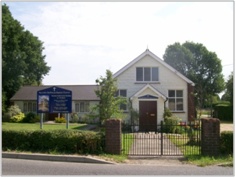 Ramsden Bellhouse Baptist Church

Church Road, Ramsden Bellhouse
Billericay, Essex, CM11 1PJ
We are group of ordinary, friendly people from all walks of life that have one thing in common. As Christians we want to meet together to worship God and seek to promote the love of Christ in this village and in the surrounding area. We are affiliated to the Baptist Union of Great Britain and the Eastern Baptist Association.
For information about Baptist Churches in Eastern England, visit the Eastern Baptist Association Website.
Please be aware that we are not responsible for the content of any external websites.
Church Events
---
Our regular activities are ….
Sundays: 10.30am
We meet for Worship, followed by coffee. Communion is included twice a month.
Mondays: 10.30am – noon

'Monday Morning Coffee Break'
– for coffee, tea and toast and a chance for a chat,
and there are guest speakers on alternate weeks. The subjects covered by the
speakers have so far included experiences of being in the navy, the army, working in
a laundry, working in the hospice movement and running a group which facilitates
children being able to see an absent parent.
Wednesdays: 7.30pm

We meet for prayer or Bible study - details of venues available on request.
First Saturday of the month: 9am to 11.00am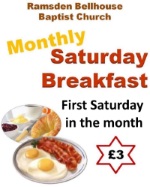 'Monthly Saturday Breakfast'
– No need to book - just drop in.
Special events happen throughout the year and will be published as appropriate
or details can be obtained by contacting one of the deacons.





---